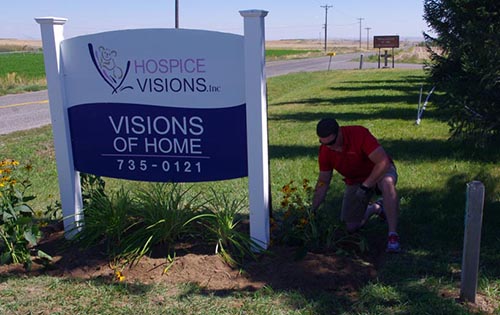 Hospice House
Our "Visions of Home" hospice home, located on land leased from the Monastery of the Ascension in the heart of the Magic Valley, offers residential care for individuals with a life-limiting illness who are unable to stay in their own home.
"Visions of Home" is able to care for up to two patients at a time and has 24 hour staff to provide around-the-clock care, in addition to a guest room for family members who wish to stay at the home with their loved one temporarily during the final hours.
Hospice Visions, Inc. provides hospice care in this peaceful, quiet, home-like environment as if it were the patient's own home. Since being built in 2003, our "Visions of Home" hospice home has served countless patients and their loved ones.
The "Visions of Home" hospice home fills an essential need in our community during times when the progression of an illness becomes more than a caregiver can see to at home. For patients with an adequate support systems and living arrangements, hospice care at home is ideal.
However, there are times when residents find that receiving hospice care in their own home is not possible due to the lack of family support, or because their home is not suitable for the dying experience. "Visions of Home" is a qualified non-profit welcoming our hospice patients regardless of their ability to pay. For questions or to see if there is an open bed please call 208-735-0121.